I'm Helping One Woman Level Up Her Career for Free
It's Women's History Month—in fact, today is INTERNATIONAL Women's Day! So, this is the perfect day to make this announcement.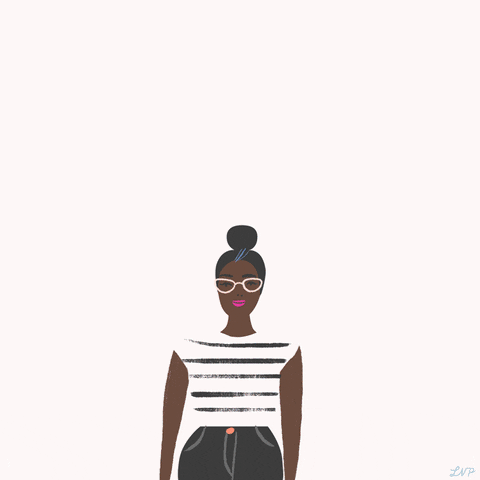 I'd been toying around with the idea of doing this giveaway for a couple of months. I knew this was something I wanted to do, but—frankly—I've just been busy.
Something happened the other day that shook me out of my "wake up, work, have weird dreams, repeat" loop I was in, and reminded me why I wanted to do this giveaway in the first place.
A little context before I jump in: I'm a Brand Therapist. I rebrand people and businesses. I help business owners use branding to help their companies resonate with target audiences who will pay the prices the business owners want to charge. I also help career builders (non-business owners) level up and grab better opportunities they didn't think they were "ready" for.
So. I was perusing Facebook the other day when I read a post by a woman who announced to the group that, although she had been pursuing a senior role—and had already started interviewing for the role—she decided to take herself out of the running. Why? Because she felt like she needed (as I understood it) a few more years in her current role.
Years.
I was home alone yelling out, "OH NO NO NO NOOOOOO!!!!" as if I'd just watched the end of an episode of HTGAWM.
BTW, my neighbors didn't come to my aid.
Anyway—I was so upset. I was upset for her and I don't even know her.
I had to reflect on why I was so triggered. What did her removing herself from consideration suggest to me?
Well…it suggested—to me—that she was afraid. And she probably didn't need to be.
I don't blame people for their fears. I believe we're taught to fear. So someone must have taught her something that made her feel like she should slip out of the recruitment process before they brought her back for another interview.
Again, I don't know her. This is my own rabbit hole.
If you're not ready for something, and you know that, then cool. Make the decision you're comfortable with. I'm for that. Well, I'm not, but I can respect it.
But, how do you know you're not ready? What is the thing that sticks out in your mind that lets you know you don't have "enough" experience?
Because until you do it, you don't have the experience.
So when is it appropriate to feel ready?
I'd imagine it's before you're ready. What a conundrum!
When I moved from 3rd grade to 4th grade, I had never been a 4th grader before. My teachers felt I was prepared. No one worried about me keeping up with the accelerated 4th grade curriculum I was traveling across town to study. I generally lived on the honor roll, so this was the obvious next step.
On my first report card that year, I got a C. C's might get degrees, but they don't get honor roll.
You know what happened? Nothing. I adjusted. I pulled my grades up. I have a Master's Degree today.
The world didn't end. Nobody died.
I'm not here to tell anyone to be reckless and bite off enough to make them choke, but I fully agree with Elaine Welteroth's bite off more than you can chew and chew really fast sentiment.
What sucks is that there are enough people telling women—directly or indirectly—to wait their turn, or to be happy with where they are, or not to be too ambitious. It pisses me ALL THE WAY OFF when we do it to ourselves!
What I find common when talking to women about our careers:
We work hard
We often wait to be noticed
We do more than we were hired to do
We don't make as much as men
We have more going on for us than we realize is valuable, so we're not able to capitalize on it
Any of that sound familiar?
I got into branding because of my work with businesses. So, it's typical for me to use branding techniques to help my clients attract buyers. But, I noticed that I was having very similar conversations with the part of my network that was ingrained in the 9-5 world. I found myself using branding techniques to coach them through their career challenges.
And, really, what the hell did I even know about those career challenges? I left the "request time off" life early.
However, several success stories later, I developed The Career Rebrand, an 8-session 1-on-1 program designed to help employees land better roles—without having to "wait their turn".
So, about that announcement I mentioned earlier (but never actually announced)…
In honor of Women's History Month, I'm going to take one woman—free of charge—through The Career Rebrand.
---
The Career Rebrand is an 8-session program that will take every aspect of your current career status and upgrade it until you are the ideal candidate for the opportunities you want.
We will use your work experience, your personality (yep, who you naturally are), and your unique skill set to make you shine in the eyes of the powers that be and remove doubts they may have that you deserve the opportunities you've worked for.
We're going to rewrite your career story so that it leads you right into the opportunities you want.
Then we'll upgrade your resume, your cover letter strategy, and all of your communication with potential employers (and your existing boss if you intend to stay where you are).
Then I'm going prepare you to slay the hell out of your interviews so you can stop being anxious and nervous about them (read: start running the show from the moment you walk through the door).
We're not going to stop there. There's so much more to a career rebrand than killing the game with your resume, cover letter, and interview chops. We've also got to change how you approach your career and how you make your mark on your industry. Your career is about so much more than the work you do at your desk. Nailing these things is what sets average candidates apart from the rock stars who get poached by companies that have big bucks to woo them.
---
If you've never heard of The Career Rebrand and want to learn more about how it works, the details are on this page. Request your application to work with me for free on that page or at the bottom of this post.
Applications close on March 31, 2019. [APPLICATIONS ARE CURRENTLY CLOSED]

If you apply, come as you are. Don't get fancy. Don't be someone you're not. Don't send me your representative. Don't rewrite your resume 5 more times. I'm not hiring you—I'm here to help you get hired. So tell me your truth.
And be ready to work.
I'm hoping that this will make it easier for some bad-ass woman to sashay right into her dream job, knowing that she's more than enough, more than capable, and more than ready to make magic happen at her new gig.
So, if you know someone—or are the someone—that is ready to level up in her career, see if The Career Rebrand is the right fit for you here.
Good luck 🙂 and Happy International Women's Day!
Contest rules are available here.
---
Applications for the contest have closed. However, if you're interested in The Career Rebrand, you can still signup below for more information.
---
[mailerlite_form form_id=1]